A gym was opened up specifically for women who are expecting. Pregnant women no longer have to feel self-conscious while they work out and can work out in a safe place among friends.
It is hard to work out when you are pregnant, and some pregnant women may even start to avoid the gym because they are self-conscious. Their bodies don't look the same, they can't lift as much and they don't have the same endurance. The women have a difficult time finding the motivation to go to a place where they believe that they are being judged and possibly mocked.
But, a gym in New York City recently opened up and it provides a safe place for pregnant women to go and work out without feeling insecure because all of the women at the gym are in the same place as them. The gym is specifically designed for pregnant women as well as women who have newborns.
Carolina Gunnarsson and Joanie Johnson saw that there were too many women avoiding the gym when they are pregnant. Gunnarsson and Johnson knew the importance of consistent exercise during pregnancy and yet many people stopped going, because of insecurities. The two women decided to solve the problem by creating Fit Pregnancy Club which focuses exclusively on helping pregnant and postpartum women exercise safely in a supportive, welcoming environment.
Gunnarsson, a mom of three, stopped going to the gym when she became pregnant with her first child. She was too scared to exercise and ended up gaining a lot of weight. Due to the extreme weight gain, she had a very difficult labor and delivery. With her second pregnancy she refused to gain the same amount of weight, so she hired a personal trainer. She ended up with complications due to the intense workouts provided by the trainer. She came across Johnson one day and learned that she had been a professional dancer and a trainer. Johnson agreed to train with Gunnarsson during her third pregnancy. Gunnarsson said that her experience with her third pregnancy was "night and day." That is when they figured out that they might have solved a huge problem.
[caption id="" align="alignnone" width="742"]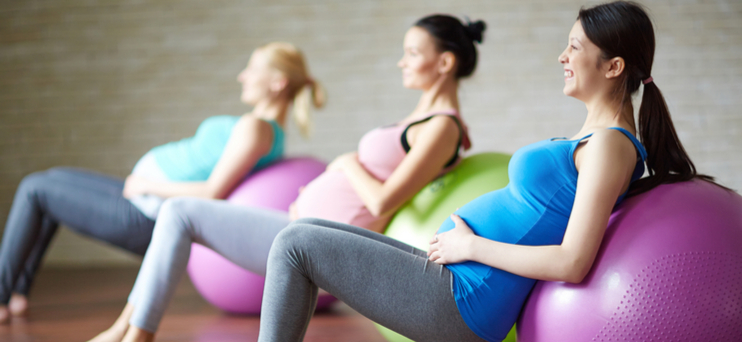 Via fitness-nation.net[/caption]
SEE ALSO: The Best Exercise There Is: 20 Things About Swimming While Pregnant
With Johnson's pregnancies, she found that there were very few resources for women to remain healthy and active during their pregnancies. She said that she came across a lot of people thinking that pregnant women were not supposed to be working out and that it was unsafe for the baby. However, exercise has been proven to help with so many complications throughout pregnancy and can even alleviate pain. Exercise can even help with delivery and recovery.
The women teamed up and created the gym to help women enjoy a positive experience where they could work out and make friends. Johnson said that her exercises are specifically tailored to pregnant and postpartum women. "It's a total-body workout that is low-impact and high-intensity," she said. "It's a way to strategically strengthen the muscles that you need for an easier pregnancy, better delivery and more complete postpartum pregnancy." Pregnant women need to know that it is perfectly safe to continue working out and to maintain their exercise routines.
READ THIS: 20 Things These Women Had To Do During Pregnancy That Were More Difficult Than Carrying
Felicity Jones & Husband Charles Guard Are Expecting Their First Child