Chicago teacher, LaShonda Carter, sat in the car with her former student's baby, so that the new mom could look for a career at a job fair.
Larresha Plummer, 18, started chatting with her former teacher, Carter, on Facebook one evening. Plummer admitted to having had some hard times and even informed Carter that she had recently given birth to a new little baby girl. Plummer had a 3-week old infant that she was trying to support. She told Carter that she was planning on attending a job fair soon and she would have to take her baby on the bus.
Carter decided that she wasn't going to make the young mom ride on public transit with an infant. "There was no way I would have let her take a baby on a bus, I told her right away that I would pick her up in the morning," Carter told CNN.  She picked up Plummer and drove her to the job fair. While Plummer was looking for her new job, Carter stayed in the car to watch the little baby.
[caption id="" align="alignnone" width="640"]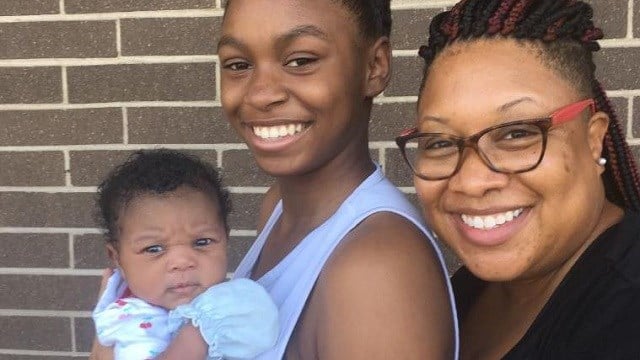 Via CNN Wire[/caption]
SEE ALSO: New Study Finds That Parents Of Newborns Get Less Than 5 Hours Of Sleep Each Night
After the job fair, Carter took Plummer to apply for Women, Children and Infants (WIC).  WIC would help a little bit with Plummer's tough time and provide some nutritional grants so that she could better care for her baby. When Carter got home she took to Facebook. She made a post and ask her friends if they could help Plummer in any way possible. She wrote in her post, "Sometimes as a teacher, our jobs go beyond the classroom… she's a young teenage mom, and she needs some help. I'm gonna do what I can, as much as I can as an educator, but know I can't do it all by myself."
Showing love to Plummer was very important to Carter. She wanted Plummer to know that she could still be successful even though she is a teenage mother and that having a baby at a young age by no means makes a young parent a "failure". Carter hopes that not only will Plummer know that she is important, but she wanted to frame Chicago, in general, in a better light. "Because of the murder rate in Chicago, we have such a bad reputation, but we can't be afraid to help others," Carter said. "I believe every day, we get the opportunity to be someone's miracle." Due to Carter's kindness, Plummer now has a job and is even planning on attending college in the fall.
This story is spreading a truly beautiful message, and we wish these three the best of luck!
ALSO READ: New Mothers Tend To Underestimate The Financial Challenges Of Being A Working Parent
This Is How Joanna Krupa Decorated Her Daughter's "Peaceful" Nursery